Our Saints:
Saint Nektarios, Saint Catherine the Great, The Three Hierarchs


Orthodox Church of America


Russian Orthodox Church Outside of Russia, Eastern American Diocese


Ancient Faith Radio


Orthodoxy in America


Join us
SERVICES:

Visit our Orthodox Christian Services. See the detailed schedule at Services and Worship.
On many weeks during the academic year there are Orthodox Compline services on Wednesday evenings at 6 p.m. in the Rooke Meditation Chapel, and Vespers services on Saturdays at 6 p.m. there also. Usually two Sundays a month there is Divine Liturgy at Bucknell Hall at 10 a.m.

On Sundays when there are not services on campus, and during breaks in the academic calendar, or just to experience servicesat a parish, there also are English-language Orthodox services nearby:

Holy Protection Mission Church, in the Lewisburg area (Russian Orthodox Church Outside Russia), holyprotectionchurch.net, about 10 minutes from campus.


Holy Cross Orthodox Church in Williamsport (Orthodox Church in America)) , www.holycrosswilliamsport.org, about 35 minutes away, to which all are welcome.
UPCOMING SPECIAL EVENT:
Metropolitan Jonah (Paffhausen), a well-known Orthodox educator and speaker, will be visiting the Lewisburg area on the weekend of March 6-7, with an informal dinner-conversation with Bucknell students on Saturday evening March 6, and will serve in the Divine Liturgy and give a talk on "Bearing Witness to the Kingdom: Missionary Outreach in Today's World" at Holy Protection Mission Church on Sunday March 7, Liturgy at 10:45 a.m. and the talk at 1 p.m.. For more information see the Holy Protection Church link.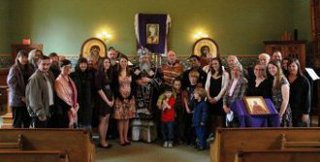 Bucknell OCF during Metropolitan Tikhon's visit.
Contacts:


Orthodox Campus Chaplain

Fr.James Chuta
h# (570) 523-0818,
e-mail: frjmc@dejazzd.com

Fr. James Chuta is a graduate of St. Tikhon's Seminary who is Orthodox Campus Minister at Bucknell. He also is an administrative chaplain with the Commonwealth of Pennsylvania's prison system. He is attached to Holy Cross Orthodox Church (OCA) in Williamsport, PA.

Faculty Advisors

Alf Siewers
h# (570) 523-8876, w# (570) 577-3575, e-mail: asiewers@bucknell.edu

Dr. Alf Kentigern Siewers is Associate Professor of English at Bucknell, and Warden of the Holy Protection Mission Church (ROCOR) in the Lewisburg area.



This is the day the LORD has made; let us rejoice and be glad in it.

Psalm 118:24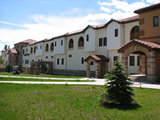 Holy Protection Orthodox Women's Monastery, located about an hour east of Bucknell, is an institution affiliated with the Greek Orthodox Archdiocese of America, Diocese of Pittsburgh, under the ecclesiastical authority of the Ecumenical Patriarchate of Constantinople. The Monastery was founded in 1993 by Elder Ephraim, former Abbot of Philotheou Monastery on Mount Athos who also founded 16 other monasteries throughout the United States and Canada. The Monastery's "Mother House" is the Archangel Michael Monastery on the island of Thasos in Greece. The site of the Monastery is on a mountain overlooking the Lehigh River Valley in the Pocono Mountains region of Pennsylvania. The Bucknell OCF sometimes attends services there.