Services:
Visit our Orthodox Christian Services weekly at

Bucknell Hall:
Liturgies at 10 a.m. on the 2nd and 3rd Sunday of each month.

Rooke Meditation Chapel:
Small Compline Service followed by fellowship on Wednesdays at 6 p.m. and
Vespers on Saturdays at 6 p.m.

For detailed schedule check Services and Worship.

Rides:
If you would like to attend Liturgies at other Orthodox Churches in our area we gladly provide rides.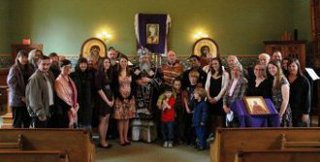 Bucknell OCF during Metropolitan Tikhon's visit.
Contacts:


Orthodox Campus Chaplain

Fr.James Chuta
h# (570) 523-0818,
e-mail: frjmc@dejazzd.com

Faculty Advisors

Alf Siewers
h# (570) 523-8876, w# (570) 577-3575, e-mail: asiewers@bucknell.edu

Slava Yastremski
w# (570) 577-1746, e-mail: slava.yastremski@bucknell.edu
This is the day the LORD has made; let us rejoice and be glad in it.

Psalm 118:24